Case Study: Marandoo Mine Surplus Water Use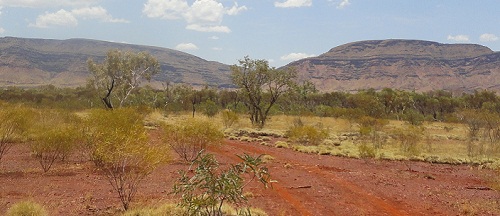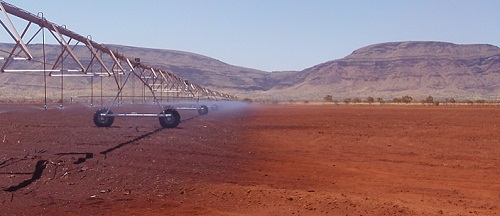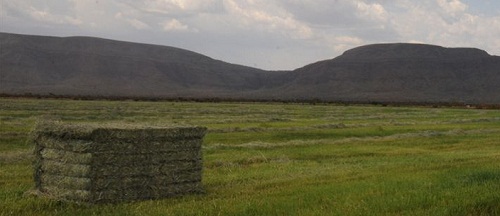 Global Groundwater specialise in designing agricultural irrigation systems to manage surplus water where mining activities have strict environmental conditions. With climate change, food security and the National Water Initiative principles driving efficient water use, there are strong incentives to minimise discharge of water to waste. Presenting water management solutions that comply with these principles can reduce mining approvals risk and facilitate licences to operate.
The Marandoo project is a leading example of using irrigated agriculture as a surplus water management tool. In conjunction with the mine operations and EPCM engineers, we have designed and implemented an innovative and environment-friendly scheme that generates fodder for livestock using surplus water from dewatering operations.
The project germinated from a concept developed between Global Groundwater and government agencies in 2008 to realise the potential that surplus water from the mining industry has to expand and support the pastoral industry in northwest Western Australia.
The project involved extensive planning and legal research to assist government and mining companies to map a pathway for the legal allocation of land for this purpose. Once this was established, extensive planning and negotiations with government agencies were required to devise the horticultural scheme and gain the necessary governmental approvals.
The Marandoo project began operation in 2012 and will eventually cover over 800Ha and will utilise the majority of the surplus water from the mining operations. The project has the potential to use 30 Giga-litres/year, or the equivalent of 32 olympic swimming pools/day.
The crop selection and fertigation scheme were carefully devised by Advanced Fertigation Systems (AFS). Nutrients and water are supplied in precisely calculated doses delivered exactly when the plants require them. This maximises crop yield thereby maximising water use without adverse environmental effects such as nutrient leaching and erosion.
Global Groundwater and AFS planned and installed an extensive network of remote monitoring equipment which is used to monitor soil and crop health, to monitor nutrient and water take-up and to provide inputs for nutrient and water needs analysis. Data is harvested from the monitoring equipment by our project partner company, Observant, and sent via satellite to their cloud databases for our analysis.
Nutrient applications, crop yield and nutrient content will be audited to ensure that environmental conditions are met and to ensure successful rehabilitation of the site.
Global Groundwater is uniquely qualified to provide cross-discipline solutions for water use such as the Marandoo project. Our expertise covers the whole spectrum:
Groundwater science
Horticultural science and experience
Remote monitoring equipment utilisation
Environmental approval processes
Strong relationships with industry leaders in agronomy and remote operation and management of agricultural systems
Experience integrating with EPCM engineers
Mine specification HSE requirements for agricultural operations